NEWS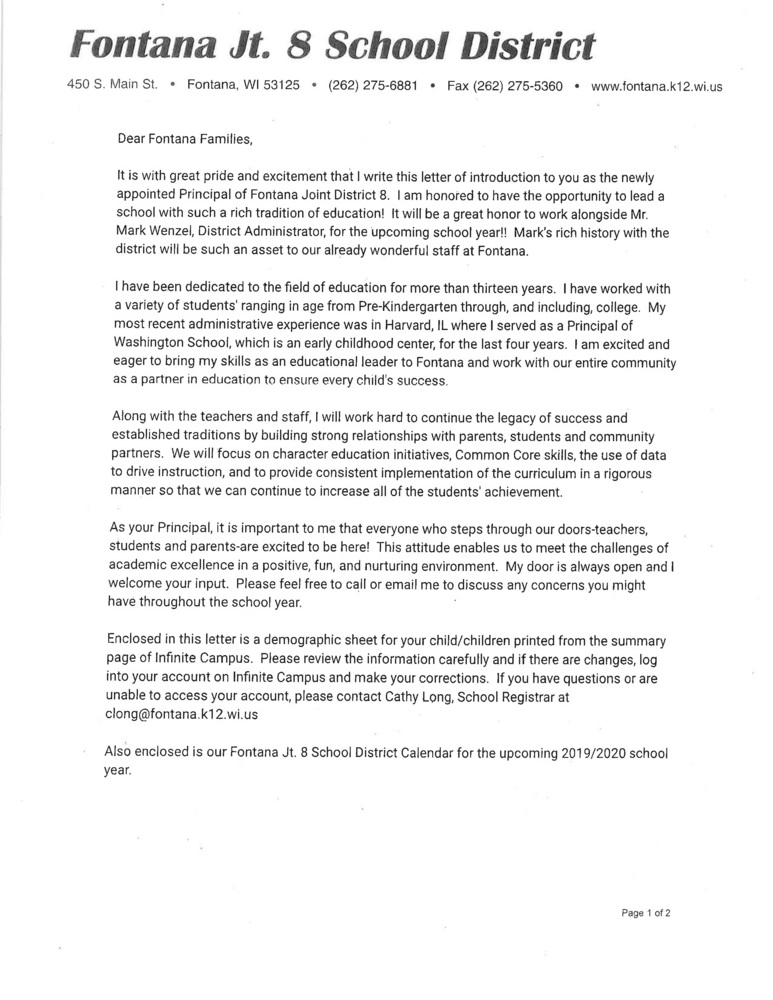 Please note: our Online Registration will begin on July 8, 2019, and will remain open through July 26, 2019.Please follow all directions for a successful online registration experience.For...

Please join us this summer and sign up for a spot to help with the garden! We would really appreciate it.Garden Sign up!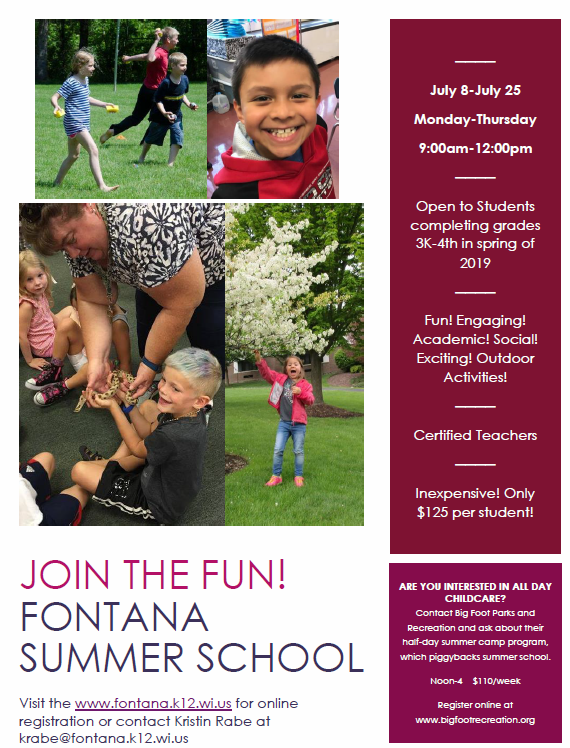 Summer School Registration
SEE ALL NEWS
LIVE FEED

We are excited to add Melissa Flies to the Fontana team as our new speech pathologist for the 19/20 school year. Melissa will join our school with a wealth of experience working with all ages and success as a speech pathologist. Welcome to Fontana!
about 3 hours ago |
Steve Torrez

Collin Schultz will be joining our Fontana team as the new PE teacher for 19/20. Collin previously taught PE in Twin Lakes and brings a great background of coaching, sports, and fun to our PE program. Collin attended UW-W and has certifications in PE, adaptive PE, and coaching.
about 14 hours ago |
Steve Torrez

Viridiana Flores joins Fontana as an instructional aide for the 19/20 school year. Viri has over 8 years experience working with schools, speaks 3 languages and is currently working on her teaching degree. Viri enjoys travel and time with family and can't wait to be a Falcon! view image
about 14 hours ago |
Steve Torrez

Hello Fontana! My name is Brittany Rambatt and I'm thrilled to be the new Spanish teacher. After college, I lived and worked in Honduras. From there, I spent 6 months in Spain. I love to travel but having grown up in the area, I'm excited to be back teaching in Fontana! view image
about 14 hours ago |
Steve Torrez
SEE ALL POSTS
Calendar